The New Cool
Can 31 high school seniors build a world-class robot – and help to fix public education?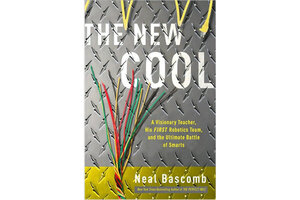 It's the kind of story we want to get behind: a group of diverse high schoolers led by a tough but caring mentor, face a challenge for which none of them are prepared. As the disparate group becomes a team, putting in blood, sweat and tears, we cheer them on in their quest toward success.
This is the kind of story author Neal Bascomb strives to tell in The New Cool: A Visionary Teacher, His FIRST Robotics Team, and the Ultimate Battle of Smarts. Unfortunately, it's a goal he fails to achieve.
"The New Cool" introduces us to the D'Penguineers, a group of 31 high school seniors who attend the engineering academy at Dos Pueblos High School in Goleta, Calif. The book follows these students as, led by physics teacher Amir Abo-Shaeer, they work to create a robot for FIRST, a worldwide competition.
CSMonitor picks: the best nonfiction books of 2010
Rivaling football in its number of screaming fans and dedicated participants, FIRST was dreamed up by the eclectic and brilliant millionaire Dean Kamen, whose eccentricities (his bedroom door is designed to look like a cupboard door, for instance, and he usually rides his helicopter to work) abound. Kamen is a man who wants to fix the big problems in our world. He worries that America's preoccupation with celebrities and sports players instead of science and technology will leave us lagging in worldwide innovation. Kamen created FIRST to show the next generation of students that being smart is "the new cool" and to inspire them to follow a technical path.
---