Townie
Dad may be an acclaimed writer at the nearby college – but that doesn't prevent these kids from growing up unwashed and underfed.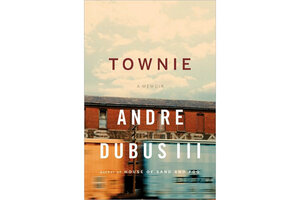 It's almost a given: If you have a famous parent, you've got the material for at least one memoir about the hurts inflicted by self-absorbed, brilliant people who neglect their offspring in pursuit of their art.
Auberon Waugh's memoir "Will This Do?" might mark the pinnacle of astounding parental selfishness – specifically, the banana scene. During the food shortages after World War II, all British children were given one banana. The young Waughs had never tasted the exotic treat. Evelyn Waugh proceeded to pour sugar and cream on all three of his children's bananas and eat every bite in front of them while his adoring wife looked on.
Still, at least Waugh fed and housed his kids. When acclaimed short story writer Andre Dubus II left his wife and children for one of his college students, his son Andre Dubus III writes in his amazing new memoir, Townie, the four Dubus kids went from a rural life with a mom who took pride in her home-cooked meals to a shaky existence in a series of squalid homes in Massachusetts mill towns.
CSMonitor picks: the best nonfiction books of 2010
Their dad, Dubus writes, did not make a lot as a professor. He did pay child support and take the kids out to dinner on Sundays. But he remained oblivious to the poverty and violence his children were steeping in. (The kids put on a front, not wanting to betray their exhausted social worker mom, but you'd think anyone even half-observant would have noticed the decrepit homes, dirt yard, and the fact that the children always showed up in the same clothes.)
This isn't folksy lower-middle-class life, à la the town vs. gown rivalry in "Breaking Away." Dubus and his three brothers and sisters were constantly hungry. Once a neighborhood friend "opened the fridge and saw its bright empty shelves and said, 'What happened to the food?' " Dubus writes. "It's something we'd all gotten used to, that hollowness in the veins, the nagging feel there always was just a bit too much air behind your ribs."
---