Day of Honey
A Mideast reporter learns that a good dinner can save civilization.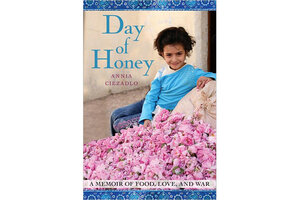 Annia Ciezadlo's world is defined by the three elements in the subtitle of her memoir: food, love, and war. But mostly food.
From the advance copy of Day of Honey upon which this review is based, I cannot tell if Ciezadlo is fat or thin or somewhere in between. But whatever her physique, her mind is obsessed with food.
Sometimes obsessions, when foisted upon strangers, become tiresome. Other times, those obsessions become the object of fascination. Ciezadlo's memoir is, fortunately, fascinating. And touching. Plus alternately depressing (because of the seemingly endless, senseless sectarian deaths in Iraq and Lebanon) and laugh-out-loud funny (because of the self-deprecation, not to mention the vivid portraits of unique characters such as her mother-in-law).
Here is the setup: Ciezadlo, born in 1970 and reared in a multiethnic Chicago family, ended up in New York City, where she fell in love with Mohamad Bazzi, a Lebanese-American journalist for the Long Island newspaper Newsday. Ciezadlo already loved to cook and eat anything before she met Bazzi. He, on the other hand, was an unadventurous eater turned off by many of her culinary creations.
---