The Social Animal
New York Times columnist David Brooks uses brain science theory to argue that culture – and not reason – shapes our decisions.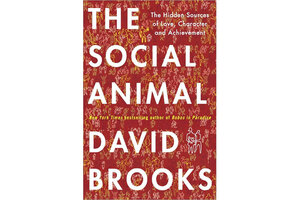 Along with Justin Bieber and caffeinated alcohol, add brain studies to the list of current hot cultural trends. Not a day passes, it seems, without some new account of the importance of fMRIs or neuroplasticity or the biological basis of happiness.
In his new book The Social Animal, New York Times columnist David Brooks declares that neuroscience "helps fill the hole left by the atrophy of theology and philosophy" and that by telling us more about how we think and what we crave, it stands to revolutionize the way we live our lives. For a man who believes in good conservative fashion that "Wisdom begins with an awareness of our own ignorance," this is a heady claim. There is nothing intellectually modest, however, about "The Social Animal."
To make his argument, Brooks tells the story of two characters, Harold and Erica. We follow them through the stages of their lives: infancy, high school, marriage (to each other), career building, infidelity, retirement, old age. Along the way, the author breaks his narrative to highlight research that helps explain why Harold and Erica act the way they do. Brooks has borrowed this approach from "Emile," Jean-Jacques Rousseau's great study on education. When I mentioned this to a learned friend, he remarked, "It's the type of thing you'd try only if you felt pretty confident your audience hadn't read the original." One wonders if the creator of Harold and Erica appreciates the tyrannical nature of Rousseau's tutor. Does neuroscience take the place of Emile's tutor, dictating every outward deed and inward motion of the soul?
---