The Long Road Home: The Aftermath of the Second World War
What became of 15 million displaced citizens at the end of World War II?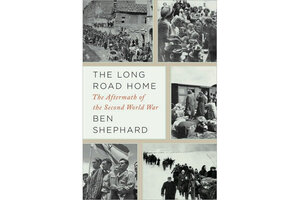 Long before World War II ended, Allied planners were deeply worried about the millions of European refugees or "displaced persons" who had been forced from their homes during the long conflict. The central concern was that a large number of homeless individuals might create a humanitarian nightmare, as had happened at the end of the World War I.
Surprisingly, most histories of World War II and its aftermath devote little attention to this issue that consumed so much energy and attention at the time. Given that oversight, British historian Ben Shepard's new book, The Long Road Home: The Aftermath of the Second World War, provides a welcome and much needed analysis of the refugee crisis in post-war Europe.
To cope with the expected challenge, the Allies had created the United Nations Relief and Rehabilitation Administration (UNRRA) more than two years before the war ended. The goal was to mobilize teams of health care and social workers to provide needed services and to repatriate the refugees as quickly as possible. But recognizing the challenge and getting a timely start did not create a smoothly functioning organization. To the contrary, in almost every way, UNRRA was woefully unprepared for the task at hand when it was pressed into service. One aid worker summed up the situation by writing, "UNRRA (You Never Really Rehabilitate Anyone) is failing lamentably."
---
Follow Stories Like This
Get the Monitor stories you care about delivered to your inbox.