The Alice Behind Wonderland
Simon Winchester examines the story behind the discomforting photo taken of the little girl who inspired "Alice's Adventures in Wonderland."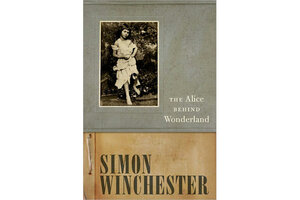 "Curiouser and curiouser!" cried the Alice of "Wonderland" fame after falling down the rabbit hole.
I almost wanted to use the same words as I read The Alice Behind Wonderland, Simon Winchester's new contribution to the field of "Wonderland" studies.
Winchester is a distinguished writer and researcher ("The Professor and the Madman," "Krakatoa," and "The Map that Changed the World," are among his numerous bestselling titles) and the subject he focuses on (the relationship between Charles Dodgson, aka Lewis Carroll, and the young Alice Liddell for whom he wrote "Alice's Adventures in Wonderland") is a fascinating one.
Yet when I was done with this slender volume I still wasn't quite sure what I had learned or why it mattered.
Winchester takes as his starting point the rather startling 1857 photo taken by Dodgson of young Alice dressed as a beggar girl. Certainly to contemporary sensibility the image is alarming. Alice – who was 6 at the time – looks coquettish at best and sexualized at worst.
But alarm bells have been rung over this photo many times before. Dodgson has been the subject of numerous biographical studies, none of which have ever really been able to explain the exact nature of his fascination with children – and particularly with very young girls. Alice Liddell was the daughter of the dean of Christ Church College in Oxford. Her parents and her young siblings were dear friends of Dodgson's. He photographed all the Liddell children – and others – at different times and in different groupings. Alice is not the only child he photographed alone.
---