The Tiger's Wife
A deathless man and a woman who loved tigers star in one of the most highly anticipated books of 2011.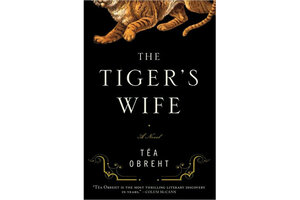 "The Jungle Book" is like "The Wizard of Oz": Everyone knows the story (or thinks they do), so most people don't bother to read it – or read it to their children – anymore.
Rudyard Kipling might have fallen out of fashion, but his most famous creation has inspired three terrific new books in the past five years. Neil Gaiman used "The Jungle Book" as a jumping-off point for his Newbery Award-winning "The Graveyard Book," while David Wroblewski's bestselling "The Story of Edgar Sawtelle" also acknowledges its debt to the boy who was raised by wolves. Now, that lame, striped hunter, Shere Khan, stalks the pages of Téa Obreht's first novel, The Tiger's Wife.
Obreht, 25, was named one of The New Yorker's "20 under 40" notable fiction writers, and "The Tiger's Wife" was excerpted in the magazine. Since the novel's publication this month, Obreht has been garnering the kind of lavish praise and headlines not seen for a 20-something debut author since Zadie Smith's first novel, "White Teeth" in 2000.
You're expecting a "but" here, aren't you? Let me not keep you in suspense: It's that good.
Obreht, who was born in Belgrade and escaped the Balkan War as a child, knows the magic of the words: "let me tell you a story." While her novel has a modern frame, the heart, meat, and sinew of the novel are the tales a grandfather tells his granddaughter.
---