Branch Rickey
Pulitzer Prize-winner Jimmy Breslin scores a solid base hit with this concise, lively biography of game-changing baseball manager Branch Rickey.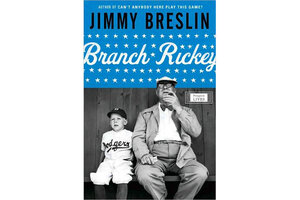 Numerous biographies of Branch Rickey have been written over the years. Several of them are very good, but none is quite like Jimmy Breslin's spirited and idiosyncratic little book.
Branch Rickey is the latest in the "Penguin Lives" series of short biographies. Like the other entries in this long-running series, the book is a model of concision. Even at a slim 147 pages, Pulitzer Prize-winning journalist Breslin manages to include a number of short autobiographical digressions and quirky personal asides. The result is a lively portrait of a man the author refers to as a "Great American" that is informative and highly entertaining.
Wesley Branch Rickey (1881-1965) is best remembered as the general manager of the Brooklyn Dodgers who initiated the integration of the modern major leagues. His signing of Jackie Robinson to a Dodgers contract in 1945 electrified the nation, changed the face of the national pastime, and dealt an early blow to segregation in America.
---