Modigliani: A Life
Biographer Meryle Secrest tackles the messy, "cursed" life of Italian artist Amedeo Modigliani.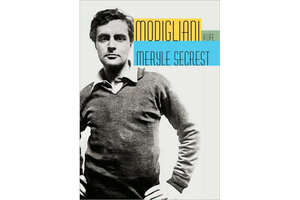 His friends called him "Modi" but behind his back they grimly joked that it should have been "maudit" – accursed.
As it has been most commonly told by his biographers, the life of Italian painter and sculptor Amedeo Modigliani is a study in decadence. Although he eventually managed to achieve a reputation as one of the great Europeans artists of the early 20th century, Modigliani is also remembered today as a drunkard and drug addict, a man who lived in squalor and begged for money, a heartless seducer and abandoner of women (who nonetheless seemed to find him irresistible). He died – in terrible pain and perhaps starving – at the age of 35.
For a biographer it's a life at least as messy as it is colorful. Meryle Secrest, however, is no novice when it comes to tracking unusual lives. Secrest is the author of 10 biographies – her subjects include Bernard Berenson, Salvador Dali, Frank Lloyd Wright, and Stephen Sondheim – and a recipient of the 2006 National Humanities Medal. She approaches Modigliani: A Life with a conviction that the record of his decadence is exaggerated – and yet her telling of his life seems to re-enforce the legend at least as much as it challenges it.
Modigliani grew up in Livorno, Italy, in a Sephardic Jewish family living in "an atmosphere of genteel poverty." As a child, the boy was "beset" with various illnesses, at least two of which were considered life-threatening and one of which (tuberculosis) would plague him for the rest of his life.
---