In the Basement of the Ivory Tower
A disillusioned professor questions the contemporary American push to get all kids into college.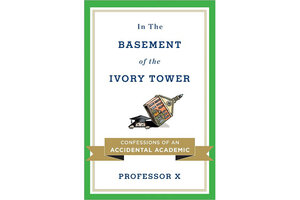 In June 2008, The Atlantic ran an article titled "In the Basement of the Ivory Tower," in which a pseudonymous "Professor X" offered harsh criticism gleaned from his experience teaching English composition and literature as an adjunct instructor on the lower rungs of America's institutes of so-called higher learning. He protested that despite our best egalitarian impulses, college isn't for everyone and in fact is obscenely costly and wasteful.
The provocative essay has now been expanded for the wider play (and pay) into In the Basement of the Ivory Tower, a book of the same title. Wanting to preserve his jobs, Professor X chose to remain anonymous and not single out the small private college and two-year community college where he's been teaching for 10 years, which he believes are representative of the wider problem.
As we know from books as diverse as "Primary Colors" and "Story of O," anonymous authorship paradoxically can both heighten and undercut a book's impact. It can free a writer to be bolder and set off an identity guessing game; but it can also lead to less care or weight – as in anonymous Internet postings.
So who is Professor X? Good question. He's a self-deprecating middle-aged man, possibly parochial-school educated (he mentions a Sister Mary Finbar, who taught him in first grade that "a sentence is a group of words expressing a complete thought," something his students don't seem to understand upon arrival at college).
---