Unfamiliar Fishes
Bestselling author Sarah Vowell takes on the story of the Americanization of Hawaii.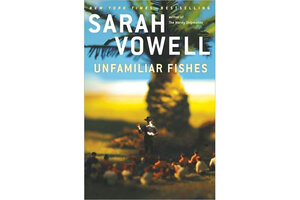 If you want to understand American history, you might want to crack open the Good Book to Acts 16:9, the "high-fructose corn syrup of Bible verses" – an "all-purpose ingredient" in America's perennial tendency toward busybody behavior.
In the verse, the apostle Paul sees a vision of a man from Macedonia calling him to "come over" and "help us." Paul did just that. And so have many generations of Americans, heeding the call to assist others in the world.
In the early 19th century, missionaries thought the residents of a Polynesian kingdom needed a spiritual pick-me-up, and they went across the planet to provide it. Over decades of conflict, Hawaii would lose much: its native religion, its native language, and many of its native people. And it would gain an eventual home in the most powerful country on earth.
9 books Bill Gates thinks you should read
This could become an epic story worthy of a big Hollywood production starring Mel Gibson: Scantily clad natives! Kings and queens! Ships! Did we mention the natives? And, of course, the triumph of the faith.
But author and public-radio star Sarah Vowell, who'd obviously rather curl up with a PBS documentary than a "Braveheart" DVD, refuses to paint her story in lurid Technicolor. Instead, in Unfamiliar Fishes she prefers to look at both the big picture of America's swift choice to become a colonial power and the small picture of Hawaiians and missionaries meeting in a tiny Polynesian nation.
---