Jerusalem, Jerusalem: How the Ancient City Ignited Our Modern World
Why is one of the world's holiest cities the flashpoint for so much violence?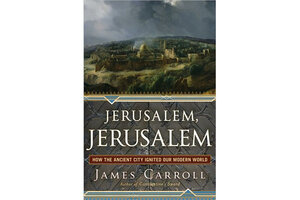 Most everyone has somewhere they call home. Somewhere they feel most comfortable or free to hit the recliner and TV on-button simultaneously. People like having a spot of their own where they can determine the rules and do as they please.
Nations are not strangers to this phenomenon, albeit on a much larger scale. Religions of all types also associate themselves with places, events, and even things – now relics – that give meaning to their communal views.
Jerusalem is the place where three of the world's most prominent monotheisms have long maintained competing claims of ownership and residency that persist to the present day. The great importance of this walled town has prompted massacres, trans-continental migrations, pilgrimages, and conflicts that continue to show discouragingly few signs of abating. National Book Award-winner James Carroll seeks to understand and account for these Jerusalem-induced conflagrations in his most recent book Jerusalem, Jerusalem: How the Ancient City Ignited Our Modern World.
9 books Bill Gates thinks you should read
Ordained as a Catholic priest during the height of the Vietnam War, Carroll left the Church soon thereafter to pursue a writing career. Throughout this book he attempts to explain how religious violence can sprout from the human desire to quell violence. Certainly a topic worth considering, Carroll undertakes a strange compositional journey to get there.
---
Follow Stories Like This
Get the Monitor stories you care about delivered to your inbox.