A Young Man's Guide to Late Capitalism
Can a global hedge fund spy with a hankering for a haute-Manhattan lifestyle find happiness among Bolivian indigenos?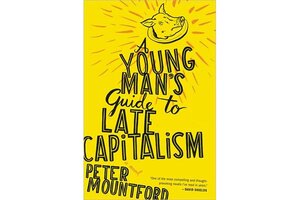 For a brief period in the mid-2000s, every Ivy League graduate thinking about what to do with his life had to consider the possibility, at least for a moment, that if he went to work for a hedge fund he might retire rich before he was even old enough to run for president. The seduction began to wane in 2008 when Wall Street collapsed, but the aura of that brief, bountiful era lives on in Peter Mountford's new novel A Young Man's Guide to Late Capitalism. The book is an inadvertent reminder that while accounting tricks and fabricated debt instruments might have been enough to harvest billions, there are no similar shortcuts to writing good fiction.
The story is set in La Paz, Bolivia where young Turk Gabriel de Boya has been sent on assignment by the Calloway Group, a Manhattan hedge fund. It is late 2005 and Gabriel arrives in the homestretch of the presidential election that will make Evo Morales the first indigenous president of Bolivia. The facts of the campaign are true to life: Morales has whipped up broad popular support with leftist rhetoric that includes a promise to nationalize Bolivia's natural gas operations. Gabriel's task is to sleuth out the details of Morales' plan so that back in New York his Master-of-the-Universe boss Priya can front-run the market and make a killing.
---