Reading My Father
Alexandra Styron searches his writings and her memory in an attempt to piece together the puzzle that was her father, author William Styron.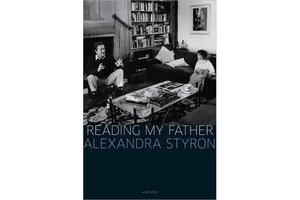 It's almost always a mistake to learn too much about the artist you admire.
Think Picasso is a genius? Don't ask how he treated Françoise Gilot. Believe in John Lennon as an idealistic peacemonger? Stay away from accounts of his dealings with Paul McCartney.
And so, in that spirit, I advise you to approach Reading My Father, Alexandra Styron's candid, bruising memoir about her father, William Stryon, with caution. If you consider Styron one of the great literary voices of the 20th century, nothing in his daughter's book will change your mind. But you may find it harder to reverence his novels quite as highly after learning of the price that Styron – and those closest to him – paid for their creation.
Pulitzer Prize 2011: Who are the winners in the arts?
Otherwise, however, "Reading My Father," has much to recommend it. Styron is a truly gifted writer in her own right. And she has access to her father – his papers, her memories, family lore – that few others can deliver. Her book is both an informed (albeit dark) examination of a significant literary figure and an engaging (albeit poignant) memoir about growing up in the shadow of fame.
---