The Wilder Life
A Chicago book editor sets out to retrace the footsteps of beloved "Little House" author Laura Ingalls Wilder.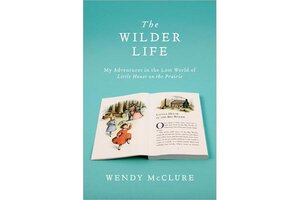 There's an unusually simple test to determine if you need to read Wendy McClure's The Wilder Life. Repeat these phrases, please:
1.Pa's fiddle.
2.Jack the brindle bulldog.
3.Little half-pint of sweet cider half drunk up.
If the exercise brings on a wave of nostalgic affection, bingo. The reader is a charter member of Laura World, the half-real-half-fictional place inhabited by fans of the Laura Ingalls Wilder "Little House" series. As such, reading McClure's account – where she traces Wilder's pioneer footsteps and becomes immersed in Wilder's allure – feels like catching up with one dear friend and meeting another.
McClure's pilgrimage takes her to 19th-century Laura landmarks that are untrafficked and obscure outside of fandom; to the place where "a little girl lived in the Big Woods of Wisconsin," to the banks of Plum Creek, and the shores of Silver Lake. She also explores, as much as a 21st-century Chicago-based book editor can, the historic details of Wilder's day. It's hard not to be entertained as she buys a butter churn on eBay (harder than it sounds) to make her own butter (easier than it sounds).
---