Malcolm X: A Life of Reinvention
This is the story of Malcolm X – a man who was in turns hustler, criminal, convict, convert, and finally, a martyr for his cause.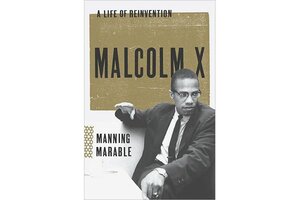 On February 21, 1965, El-Hajj Malik El-Shabazz, formerly known as Malcolm X, rose to address a meeting of the Organization of Afro-American Unity, which he had founded less than a year before. The weekly meetings were held in the Audubon Ballroom in Harlem. As two men staged a disturbance in the audience, a third man strode toward the stage, pulled a sawed-off shotgun from under his coat, and fired into Malcolm's chest. Two more assassins shot handguns at him, but the job was done.
Three weeks later, Doubleday canceled its contact with Alex Haley for the publication of "The Autobiography of Malcolm X," on which Haley and Malcolm X had been collaborating since 1963. Manning Marable, the author of Malcolm X: A Life of Reinvention, an excellent new biography, called it the "most disastrous decision in corporate publishing history." The book was published later that year by Grove Press, and by 1977 more than six million copies had been sold.
---
Follow Stories Like This
Get the Monitor stories you care about delivered to your inbox.