Classic review: The Cold War – A New History
The cold war: how it began, why it ended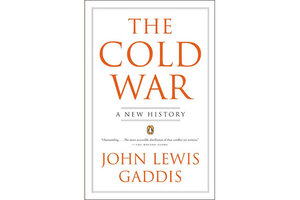 [This review from the Monitor's archives originally ran on Dec. 20, 2005]. Fourteen years ago, in December 1991, Soviet leader Mikhail Gorbachev told his country that the cold war was over. In signing the decree that dissolved the Soviet Union and ended the East-West competition, Gorbachev also announced an end to the arms race and the "insane militarization" that had "distorted" his country's thinking and "undermined" its morals. And perhaps most significantly, he claimed "the threat of a world war" had come to an end.
With the demise of the Soviet state, the world seemed ready to enter an era in which the fear of a catastrophic war would no longer stalk humanity. Many believed the perils of the cold war would give way to a more tranquil age.
But it was not to be. Yesterday's fear of intercontinental ballistic missiles raining down on New York or Washington has been supplanted by today's fear of suicide attacks and dirty bombs.
10 most frequently challenged library books of 2010
And now, when boarding a plane gives many people pause, one looks almost longingly at the postwar decades, when the United States seemed to understand its adversary and believed Russian leaders were unlikely to act irrationally. After all, the cold logic of the cold war meant a Soviet attack on the United States would lead to a swift and devastating response.
---