A Helluva High Note: Surviving Life, Love, and American Idol
"American Idol" judge Kara DioGuardi tells the public about her life, her work, and how it felt to get the cold shoulder from Simon Cowell.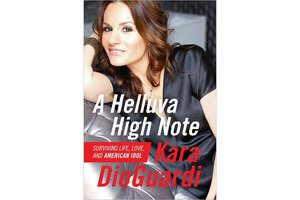 Kara DioGuardi entered the collective consciousness of American pop culture when she was cast as the fourth judge on the reality show "American Idol" during its eighth season. Though well known within the music industry, DioGuardi remained a bit of a mystery to the American public even after two seasons on one of the biggest shows on television. Now, with the release of her first book and memoir, A Helluva High Note, she introduces herself to readers.
The bulk of the narrative is sandwiched between DioGuardi's experiences with "American Idol," beginning with the news that she was being fired from the show in 2010 and then ending with her reflections on her two seasons. It's a smart move since, despite a résumé of industry names that would make even Randy Jackson envious, "American Idol" is what made DioGuardi a household name.
The actual experiences of those in the spotlight are rarely the fairy tales they are made out to be. DioGuardi walks us through the highs and lows of her "American Idol" journey, though truth be told, it comprised mainly lows, especially in her first season. DioGuardi writes, "As far as I am concerned, American Idol Season 8 might as well have been called Survivor. Every moment was mentally, physically, and emotionally challenging."
According to DioGuardi, she was thrust into the spotlight with staggeringly little preparation, a fact that – along with her lifelong struggle with "extreme stage fright" – she claims contributed largely to an underwhelming debut season. But, she says, she was not the only one who was unprepared for her arrival on the show. Although Simon Cowell interviewed her in June 2008, she says that fellow judges Randy Jackson and Paula Abdul were unaware of the addition of a fourth judge until the day before auditions began.
---