Bad Dog: A Love Story
A recovering alcoholic tries to win his wife back by taming their out-of-control dog.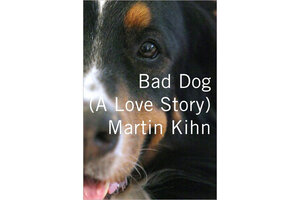 I never would have thought it possible but I've actually become one of those people who shakes her head in disgust when she walks by a stack of dog-related memoirs.
Believe me, it's not that I'm anti-dog. (Just ask my absurdly pampered mixed-breed.) And it's not that I don't like dog books. (I was reading and rereading Albert Payson Terhune decades before John Grogan thought to write a memoir about his dog.)
It's just that there are way too many of them. So I have pretty much resolved to stop reading or recommending them.
10 best books for Mother's Day
Except for Bad Dog: A Love Story. Martin Kihn is just too talented – I still don't know how a writer can be that laugh-out-loud funny while chronicling a major life crisis – and his story is just too good to miss. (And of course the soulful pictures of Hola, his lovely Bernese mountain dog, don't hurt either.)
Kihn and Hola, it would seem, were a match made in heaven – although it took a while for that to become apparent.
Kihn and his wife Gloria were living in Manhattan, pursuing their careers with varying degrees of success – and trying to ignore his drinking problem – when they bought Hola. Gloria hoped for companionship, as she wasn't getting much from her husband. But the dog they picked turned out to be the problem puppy from Hades.
"I noticed one of the litter careening around like a nutcase, kicking newspaper out of the way, trying to chew a hole in the back wall, and doing a Mexican hat dance with her hind legs," Kihn would later recall. "'Gosh,' I remember thinking, 'what's wrong with that one?'"
What was wrong, of course, was that they took her home.
Hola grew up to be a dog who was "naturally dominant," incapable of feeling pain, and "as outgoing as Ethel Merman on Jolt."
---