Classic review: A World of Trouble
New York Times correspondent Patrick Tyler analyzes 50 years of US policy in the Mideast.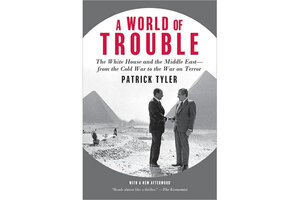 [This review from the Monitor's archives first ran on Jan. 5, 2009.] In A World of Trouble, New York Times chief correspondent Patrick Tyler distills 25 years of journalistic experience and a mountain of declassified government documents into an erudite, unusually eloquent analysis of a half century of United States policy toward the Middle East.
Don't expect, however, to be heartened by what you will read here. "After nearly six decades of escalating American involvement in the Middle East, it remains nearly impossible to discern any overarching approach to the region," writes Tyler. "What stands out is the absence of consistency from one president to the next, as if the hallmark of American diplomacy were discontinuity."
Relying on information newly made available from presidential archives, Tyler takes readers on a tour of American relations with the Middle East from the presidency of Dwight D. Eisenhower through that of George W. Bush.
Osama bin Laden: 7 books that offer insight
But where Tyler particularly excels is in tackling the ongoing Arab-Israeli conflict, a thorny subject that assumes center stage for several chapters. Though there have been the occasional breakthroughs in reconciliation efforts – principally the Carter-brokered Camp David Accords – Tyler sees the timidity of some US presidents in the face of Israeli hawkishness as a major impediment to lasting peace.
---