What There Is to Say We Have Said: The Correspondence of Eudora Welty and William Maxwell
Two great writers share thoughts on their books, their gardens, their dreams, and their deep caring for one another.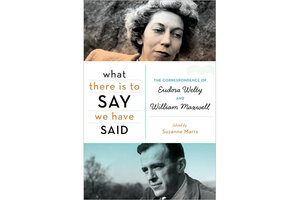 In the annals of American literature, Eudora Welty and William Maxwell each earned blue ribbons for physical longevity. Welty, the famous Southern novelist, short story writer, and memoirist, died in 2001 at 92; Maxwell, a fiction editor for The New Yorker who was also an acclaimed writer of fiction, died in 2000 at 91.
Because of their long lives and careers, Welty and Maxwell endure in popular culture as the silver-haired sages of national letters, standard-bearers of a literary period that extended from the Great Depression to recent memory.
One of the nice things about What There Is to Say We Have Said, a new collection of letters between Welty and Maxwell, is its gentle reminder that these two writers were young once, too.
4 books I shouldn't have liked – but did
The most unusual letter in the collection is a 1933 missive from Welty to the editors who presided over The New Yorker before Maxwell's arrival there. Welty, then 23, had written the magazine asking for a job, and her letter – an awkward affair in which she self-consciously tries to mimic James Thurber – has none of the quiet grace and acute perception that would later become Welty's signature. As a novice writer who wants to shake off the dust of a sleepy province and make it big in Gotham, Welty mocks her native Mississippi as "the nation's most backward state."
---