Embassytown
China Mieville's heady new novel harks back to the 1970s science fiction of Ursula Le Guin and Doris Lessing.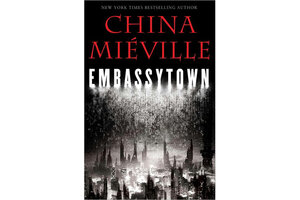 By Jeff VanderMeer for The Barnes & Noble Review
Reminiscent of 1970s socio-political science fiction by the likes of Ursula K. Le Guin and Doris Lessing, China Miéville's often revelatory new novel Embassytown is three books in one: a tense political thriller; an amazing, sometimes brutal rhapsody on the uses of language; and a curiously flat account of civil war.
"Embassytown" follows hard on the heels of two other Miéville novels: the much-lauded philosophical police procedural cum fantasy "The City & The City" and the fun but overlong romp "Kraken." The new novel most closely resembles "The City & The City" in attempting to combine the grotesque physicality of The Weird with other genres – this time alien contact SF – while also engaging the reader at the level of Idea. As ever with such enterprises, it takes tremendous skill to make those ideas an organic part of story and of character. At times "Embassytown" attains mastery – and at times it does not.
The clinical yet compelling Avice Brenner Cho narrates this alien contact adventure. She is a native of Embassytown, which occupies an uneasy position as a human outpost on the planet of Arieka. The indigenous intelligent species, known as the Ariekei, have helped humans create a livable space that keeps out the planet's toxic atmosphere. Their civilization depends heavily on animals rather than inert machinery. Factories, buildings, and vehicles are all living bio-tech, as boldly visceral as anything in Miéville's Bas-Lag novels.
---