Classic review: Bob Dylan in America
Sean Wilentz's study of enigmatic music icon Bob Dylan is at once a time-hopping biography; a catalog of Dylan's myriad, eclectic influences; and a primer on American music.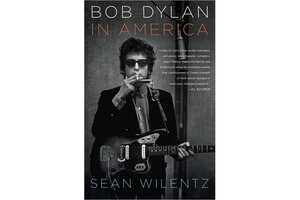 [This review from the Monitor's archives originally ran on Oct. 4, 2010.] Writers and critics (and lately, the artist himself) have slowly been unmasking the elusive Mr. Dylan for decades now, with 150 tomes dedicated to penetrating the briar patch that is Bob. Well, I'm happy to announce that we're definitely making progress and, with Bob Dylan in America, a giant leap.
Author Sean Wilentz combines a lifelong music fan's enthusiasm with a history detective's doggedness to unearth Dylan's entire root system, from the Mississippi Delta to the iron mines of Minnesota to MacDougal Street in Greenwich Village. The book is at once a time-hopping biography; a catalog of Dylan's myriad, eclectic influences (how about Charlie Chaplin, Walt Whitman, and Judy Garland, for starters?); and a primer on American music – gospel, minstrel, blues, country, and folk. The words "In America" in the title define the conceptual heart of the book. Wilentz writes: "I have ... been curious about when, how, and why Dylan picked up on certain forerunners…. What do those tangled influences tell us about America?... What does America tell us about Bob Dylan?"
---