The Sojourn
A World War I sniper's dreams of glory collide with the terrible reality of combat.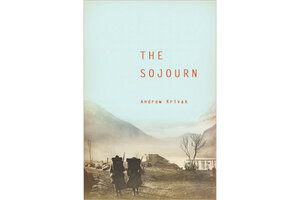 By David Abrams for The Barnes & Noble Review
On the day I finished reading The Sojourn, Andrew Krivak's riveting novel about World War I, the last surviving male veteran of that "war to end all wars" died. Claude Choules was 110 when he passed away at a nursing home in Perth, Australia, and I wonder what he would have thought of Krivak's story about a sniper who undergoes the standard hells of war literature before arriving at uneasy peace with himself on the last page. Though Choules was a seaman with the British Royal Navy, I suspect he shared the same kind of scarred psyche as Jozef Vinich, the Austrian sharpshooter in "The Sojourn" who comes marching home full of "grief and desolation." Mr. Choules was, after all, a pacifist.
And isn't that the resonant effect of most war literature – to turn readers' hearts and minds against militarized conflict? There is, of course, a strand of fiction which celebrates and glorifies the act of man killing man, but the most serious and enduring works of literature provoke us to reconsider the ends in light of the means. Think of "All Quiet on the Western Front," "A Farewell to Arms," even "Catch-22," and it's the horrors of battle scenes which stick in our memory and pour cold water on delusions of war's grandeur (though nations seem little able to remember the lesson).
---