In the Garden of Beasts
How a cautious American academic and his flirtatious daughter met evil in Hitler's Germany.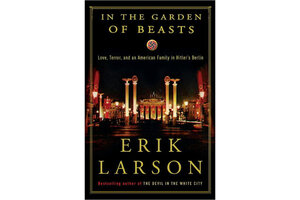 Much like those of the Civil War, the stories of World War II can – and do – fill the shelves of bookstores and libraries. Plenty may overlap or prove superfluous, but new research, archival discoveries, and fresh perspectives can still reap rewards for historians and
readers alike.
Into this category goes Erik Larson's In the Garden of Beasts, a disturbing but highly compelling account of the life of the American ambassador to Germany and his family during Hitler's rise to power. Larson, author of "The Devil in the White City" and other bestsellers, focuses on a narrow yet intriguing chapter of the buildup to the war: what life was like in Berlin among the social and political elite as Hitler became chancellor, told through the eyes of a most unusual ambassador and his family.
William E. Dodd was the 64-year-old chairman of the history department at the University of Chicago when he fell into the unlikely role of ambassador to Germany.
---