The Man in the Rockefeller Suit
The stranger-than-fiction story of the con man who found his way into some of America's most elite circles.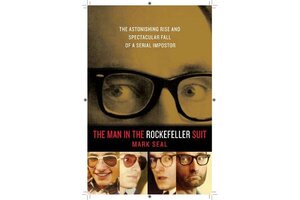 The fantasy of creating a new life – just disappearing from the humdrum of everyday life and starting over as a completely different person – may well be fairly common. But few people ever attempt it, let alone pull it off. Veteran journalist Mark Seal's latest book, The Man in the Rockefeller Suit, tells the tale of a man who managed to reinvent himself multiple times, the last of which involved appropriating the name and mannerisms of one of America's most legendary families.
It all began in Germany where young, ambitious Christian Gerhartsreiter wanted a better, more exciting life than the one he would have in the small village where he grew up. He moved to the United States (on a questionable student visa) in the fall of 1978 and settled briefly in Connecticut where he enrolled in high school. A year later he went to Wisconsin, started college and, for the first time, changed his name. Then known as Chris Gerhart, he married to gain US residency and soon moved (by himself) to California where he began calling himself Christopher Chichester. In 1981, he settled in San Marino and claimed he was a grandson of Lord Mountbatten – the great grandson of Queen Victoria and one of the three Supreme Allied Commanders of World War II – but shyly admitted that he was a "poor relation." He soon began to tell people that he was a baronet.
---