Editor's choice: "Chasing Aphrodite" by Jason Felch and Ralph Frammolino
How did one of the world's wealthiest museums end up keeping company with an international coterie of thieves and thugs?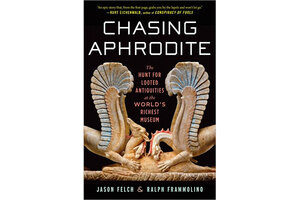 Is this a growing new genre – or am I just a latecomer to the party?
Either way, I find myself becoming ever fonder of an intriguing niche in the world of nonfiction: books about what happens behind the scenes in the world of great art.
First (for me, anyway) there was Jonathan Harr's 2006 book "The Lost Painting," which describes the life of a long-lost masterpiece by Caravaggio and reads like a fabulous detective story. Then there was "The Gardner Heist" by Ulrich Boser (2009), a terrific read about the infamous 1990 theft of 13 masterpieces off the walls of Boston's Isabella Stewart Gardner Museum. And "Provenance" by Laney Salisbury and Aly Sujo (2009) is an amazing story about one of the most audacious scams in the history of art.
Now the latest art-world exposé that I'm adding to my library shelf is Chasing Aphrodite: The Hunt for Looted Antiquities at the World's Richest Museum by Los Angeles Times reporters Jason Felch and Ralph Frammolino.
---