State of Wonder
Ann Patchett's latest, a "literary, ethical thriller" set in the Amazon, is the must-read novel of the summer.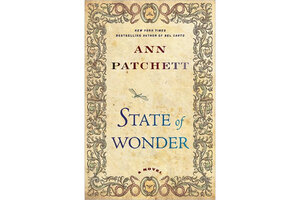 Here's a quick way to tell if the man you're dating is a keeper: When a colleague dies under mysterious circumstances in the Amazon does he A) go himself to bring the man's body back to his grieving widow, since he's the CEO who sent him to his death, or B) does he suggest you go instead?
And so, pharmaceutical employee Dr. Marina Singh finds herself on a flight to Manaus, Brazil, in Ann Patchett's terrific new novel, State of Wonder, which creates its own classification as a literary, ethical thriller. The middle-aged Singh is not exactly Indiana Jones: She's having screaming nightmares about her dead father, thanks to anti-malarial drugs; her luggage keeps getting lost or repossessed; she doesn't speak Portuguese; and nothing about Minnesota has prepared her for the heat (or the lizards the size of kittens).
Marina's boyfriend/boss, Jim Fox, is less concerned about the unfortunate demise of Dr. Anders Eckman, Marina's coworker, and more worried about all the money his company has sunk into developing a fertility drug that supposed to act like the fountain of youth for women.
---