Those Guys Have All the Fun
It's big and it's bloated but – like the sports empire that it covers – this is a book that you don't want to miss.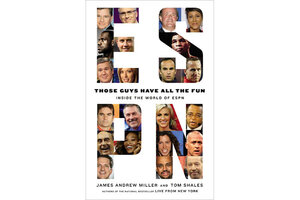 At the ripe old age of 32, ESPN is in its prime.
The self-proclaimed worldwide leader in sports has become just that, airing in 200 countries and raking in billions of dollars while carrying games featuring all of the major American sports leagues. Between its six US cable networks, thriving website, bi-weekly magazine and sprawling radio network, ESPN employs 6,500 people, including 3,800 at its 116-acre Connecticut campus.
In Those Guys Have All the Fun, co-authors James Andrew Miller and Tom Shales track the network's meteoric rise. Though ESPN's success now seems like a foregone conclusion, no one in TV thought so in 1979. Founders Bill and Scott Rasmussen first planned to launch a channel devoted to Connecticut sports, but the happenstance good fortune of landing cheap satellite time convinced them instead to make it a national network. All of four reporters attended the press conference announcing ESPN's arrival.
Today, however, what once was a hapless $9,000 start-up in a dead-end town (Bristol, Conn.) has morphed into a Disney-owned media property worth more than the major leagues of baseball, hockey, and basketball combined.
---
Follow Stories Like This
Get the Monitor stories you care about delivered to your inbox.