The Filter Bubble: What the Internet is Hiding from You
Is the Internet actually narrowing your world?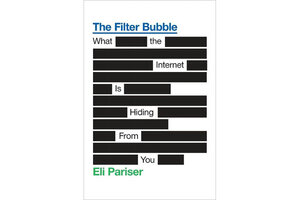 Google knows that my wife and I are expecting our first child. Our recent search history goes something like this: "things you need to buy for your first baby"; "why do my fingers get fat when I'm pregnant?"; and "is it worth buying a diaper bin?"
I noticed that in my in-box I was getting lots of baby-related emails; the ads showing up in my Gmail account mostly pertained to infants. No matter how many different ways we searched, all avenues seemed to lead back to the same products. It was as if the Web knew what we wanted.
This is what Eli Pariser, in a fascinating new book about the increasingly personalized Internet, calls The Filter Bubble. Search engines weight our search results to our own preferences. (My search results won't look like yours.) Sites will filter our news (without asking us) to bring us what they think we want.
Pariser, a former executive director of the advocacy group MoveOn, pulls back the curtain on the dark arts of search and Internet advertising. There is "behavioral retargeting," which means that you might check out a pair of shoes in an online store and leave without making a purchase – only then to find their ads following you around the Internet. Or advertising based on your "persuasion profile," which isn't just concerned with the types of products you like but "which kinds of arguments might cause you to choose one over another."
---
Follow Stories Like This
Get the Monitor stories you care about delivered to your inbox.