Editor's choice: Turn Right at Machu Picchu
A travel writer treks to Machu Picchu in the footsteps of legendary 19th-century explorer Hiram Bingham III.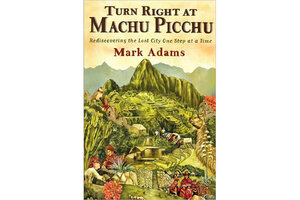 July 24, 2011, will mark an anniversary of sorts – call it a coming-out party, perhaps – for Machu Picchu, Peru's mysterious city in the clouds, the 16th-century Incan metropolis that is also known as one of the seven wonders of the world. Exactly 100 years earlier – on July 24, 1911 – Yale University professor and American explorer Hiram Bingham III stumbled upon the site and proceeded to introduce it to the world.
Anniversaries like this one are usually good excuses to sell books such as Turn Right at Machu Picchu: Rediscovering the Lost City One Step at a Time and so travel journalist Mark Adams's decision to fly to Peru, hire a guide, and attempt to retrace Bingham's footsteps must have seemed to his publisher a sound one.
What makes it also a slightly comical one, however, is the fact that – although Adams has written his share of extreme travel pieces for magazines such as Outside and National Geographic Adventure – he is mostly an armchair adventurer. "I was banned from the Cub Scouts [in second grade] due to a late birthday," writes Adams, hoping to excuse the fact that he has never slept in a tent before. Meanwhile, he is preparing to replicate the remote mountain trek undertaken by Bingham, the professional explorer who helped to inspire the character of Indiana Jones.
To Adams's rescue comes John Leivers, the Australian guide who will undertake the journey with him. Leivers is a leathery outdoorsman with a bleak personal philosophy (he expresses to Adams his conviction that "the world had entered a deep, probably irreversible decline") and a deep-seated contempt for ordinary people who sleep indoors at night and fail to embrace punishing physical challenges. ("The body and mind only get stronger when they're traumatized," he assures Adams.)
---
Follow Stories Like This
Get the Monitor stories you care about delivered to your inbox.