The Last Boy: Mickey Mantle and the End of America's Childhood
This gripping tale of the American legend blends myth and fact to create a nuanced portrait of The Mick.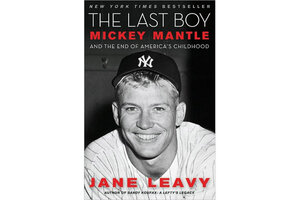 One wouldn't think that in the heart of Red Sox country, people would be clamoring to read about a Yankee. But that's exactly what happened earlier this season when there was a run on at the Minuteman Library network for Jane Leavy's acclaimed biography The Last Boy: Mickey Mantle and the End of America's Childhood. To deal with the reader demand, member libraries were forced to order extra copies – and this for a book released last October.
The fascination with Mantle clearly transcends the pitched lines of a fierce sports rivalry. After all, Mantle, much like Marilyn Monroe, was an iconic figure who lived both a glamorous and tragic life.
Interestingly, Monroe was briefly married to Joe DiMaggio, Mantle's predecessor as the Yankees' centerfielder. DiMaggio, however, was a standoffish teammate who Mantle felt did little to facilitate their handoff.
This comes through clearly in "The Last Boy," which very possibly is the definitive work on Mantle, despite there being more than 20 other books about him.
Leavy, who was born in the Bronx 20 blocks from Yankee Stadium, spoke to more than 500 people in writing the book and lists each one in an appendix. As she puts it, she went to such great lengths "in an effort to find [Mantle's] good heart." She was convinced that he had ennobling character traits buried beneath his often coarse and insensitive behavior.
---