Book review: Nothing Daunted, by Dorothy Wickenden
The delightful real-life adventures of two Eastern college girls who left home for Colorado in 1916.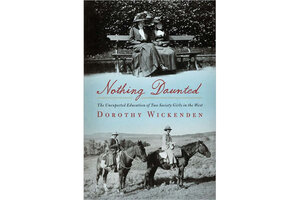 If somewhere in your home or office you are maintaining a stack of books labeled "wonderful reads for summer vacation," please make haste to add Nothing Daunted to the top of heap. For charm and pleasing readability, you won't find much to beat it.
In the fall of 2008, The New Yorker's executive editor, Dorothy Wickenden, came across a stack of forgotten family letters. They were written by her grandmother, Dorothy Woodruff, who, in the school year of 1916-17, left her privileged life in New York state in the company of her best friend Rosamund Underwood, to move to Elkhead, Colo., and teach in a rural schoolhouse for a year. During their year in the mountains, the two well-educated young women – both graduates of Smith College – wrote faithfully to friends and family back home, leaving a rich narrative trail that Wickenden wonderfully weaves into the story, which she has subtitled: "The Unexpected Education of Two Society Girls in the West."
Dorothy and Ros had been best friends since they met in their kindergarten (one of America's first) in Auburn, N.Y., in 1892. They enjoyed happy, affluent girlhoods, thanks to the wealth of their industrialist male forebearers. They went on to study at Smith, spent a year together in Europe learning French and soaking up culture, and then came home – to do nothing much.
---