Bush's Wars, by Terry Anderson
How has America fared in its forays into the 'Graveyard of Empires' (Afghanistan) and the 'Improbable Country' (Iraq)?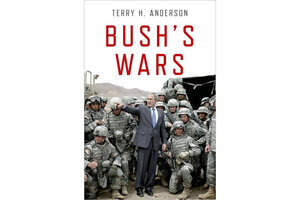 George W. Bush told an interviewer last year that he would not be alive to hear history's final verdict on his acts as president of the United States. But Terry Anderson, professor of history at Texas A&M University and a Vietnam veteran, isn't waiting. He has written 'Bush's Wars', a reasonably engaging account of the military actions in Afghanistan and Iraq begun by Mr. Bush in 2001 and 2003, respectively. Neither is close to being finished 2-1/2 years after he left the White House.
There have been scores of books on the two wars, of course, with various focuses and perspectives, and Anderson draws on many of them, among other sources, to create a modest, 282-page overview that begins with a short primer on the Graveyard of Empires (Afghanistan) and the Improbable Country (Iraq).
If there is much that the reader remembers – or should remember – in this work, there also are some surprising details. Among other unsettling revelations in "Bush's Wars" is an examination of the numerous prewar misapprehensions cherished by Bush's "neocon" advisers. What they anticipated would happen if the US invaded Iraq is, in hindsight, stunningly inaccurate:
---
Follow Stories Like This
Get the Monitor stories you care about delivered to your inbox.