A Dance with Dragons, by George R.R. Martin
No one – not even the most sharp-eyed of Martin readers – will be able to guess where this book is going.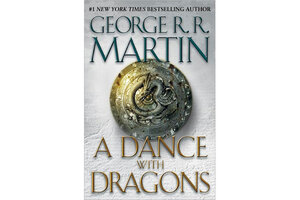 A Dance with Dragons may be the newest book in George R.R. Martin's "A Song of Ice and Fire" fantasy series, but it relies on a series of plot twists familiar to all fans of Martin's writing. Namely, the characters you thought were crucial will be killed off and characters you thought were dead will miraculously reappear.
The previous (and fourth) book in the series, "A Feast for Crows," covers the same time span as does "A Dance with Dragons." However, Martin's trademark narrative device of choosing a set of point-of-view characters for each book and giving each of them a handful of chapters to narrate left "A Feast for Crows" in the hands of some of the series' less interesting characters – making the book a less gripping read than most of the rest of the series.
But in "A Dance with Dragons," Martin focuses on some of the more popular characters not heard from in "A Feast for Crows," including Jon Snow, Daenerys Targaryen, and Tyrion Lannister. In the first chapters of the book readers get the half of the story not told in "Feast for Crows." Then "A Dance for Dragons" takes a classic Martin twist and rejoins the two sets of characters to create some hair-raising cliffhangers for the next book.
---