On China, by Henry Kissinger
Kissinger is convinced that China must be dealt with through compromise.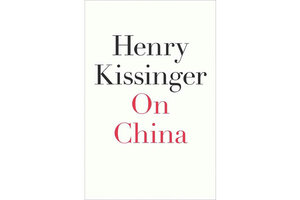 One would hope that Henry Kissinger's new 530-page book On China would produce some news, something startling.
But the story of Nixon's opening to China, the meetings with Mao Zedong, and the ensuing ups and downs in US-China relations are now familiar to those who have followed the relationship. One is left wondering if the book could not have been made shorter and better-focused.
Acting as President Nixon's national security advisor, Kissinger made his first, secret trip to China in late 1971 to set the stage for Nixon's ground-breaking visit to the country in early 1972. In the 40 years that followed, Kissinger visited China more than 50 times. He had unparalleled access to several Chinese leaders – from Mao to Hua Guofeng, Deng Xiaoping, and Jiang Zemin.
"On China" is based largely on the former secretary of state's transcripts of talks with those leaders and his analysis of Chinese culture and its impact on Chinese foreign policy. He's convinced that China must be dealt with through compromise, cannot be pressured on human rights, and must be understood in terms of a lasting feeling on the part of the Chinese that they were humiliated by Western powers during the latter half of the 19th century and into the 20th.
---