"The Most Beautiful Walk in the World: A Pedestrian in Paris," by John Baxter
Take a delicious walk through Paris in the memoirs of this author-turned-Parisian-tour-guide.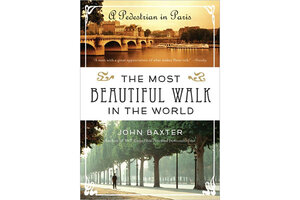 Many Americans regard Paris as one of the most magnificent places in the world and a destination that should be visited frequently and savored. Some of our ancestors felt the same way: More than a century ago, the writer Thomas Gold Appleton proclaimed "Good Americans, when they die, go to Paris."
John Baxter, a writer and film critic who has lived in Paris for the last two decades, would certainly agree. Having already authored two books about the City of Light, Baxter has now written The Most Beautiful Walk in the World, a new volume that focuses on the enormous pleasures to be gained from simply strolling about the city and carefully observing the everyday sights.
Parisians themselves, of course, have long appreciated the pleasures of a good walk and even invented a word, "flanerie," to describe the activity. Baxter is a flaneur, par excellence. Fortunately, he's also a superb writer and this allows the rest of us to enjoy the city with him. The book is really a loosely connected series of essays about how the author came to give tours of Paris: A friend asked him to lead a literary tour as a favor. He did the first tour, enjoyed it, and decided to spend a year as a high-end tour guide.
He quickly learns that conveying the kind of information found in a guidebook does not work as well as talking about the Paris he knows based on his own knowledge and observations. The "ah-ha" moment comes when he sees an opium pipe in a shop window and departs from standard tour guide patter to describe the role and place of opium in Paris. He quickly concludes that visitors don't care much for statistics and dates but they crave stories and anecdotes.
---