India: A Portrait, by Patrick French
Journalist Patrick French searches for the mechanics behind India's functioning, diverse democracy.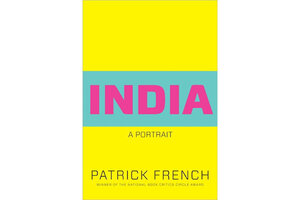 When it comes to ballot-box complications, the nation famously known as the world's most populous democracy really takes the chikki.
During India's first national election, some women voters only carried the names of their fathers and husbands. Other voters refused to give their names because they felt uncomfortable identifying themselves to strangers. And many couldn't read or write any of the nation's hundreds of languages.
Almost six decades later, India's amazing diversity hasn't led to chaos. Its democracy is rock-solid despite traditions of corruption and violence. A sudden economic powerhouse, it now produces many of the most brilliant minds on the planet and threatens the dominance of the United States.
"India is a macrocosm, and may be the world's default setting for the future," writes journalist Patrick French.
How on earth did that happen? French searches for answers in India: A Portrait, a perceptive and rambling stroll through a nation's body and soul.
As its bland title makes clear, this book isn't a lush travelogue or a spiritual journey. Instead of "Eat, Pray, Love," this is more like "Analyze, Interpret, Understand," with a wonky British scribbler replacing Julia Roberts in the title role. The detail-oriented author even pores over elaborate spreadsheets to help him get a handle on India's politics and economy.
---