Rock the Casbah: Rage and Rebellion across the Islamic World
Journalist Robin Wright tells of a "counter-jihad" – a rebellion of the young and hip – now hitting the Muslim world.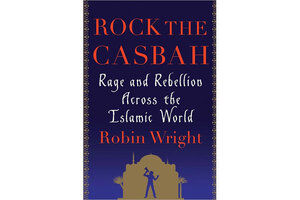 An article in the new issue of Foreign Policy magazine argues that specialists failed to predict the recent, ongoing Middle East uprisings. One exception to that systematic failure is Robin Wright, veteran journalist and author. Wright's 2008 book, "Dreams and Shadows," profiled individuals who were offering "disparate experiments with empowerment in the world's most troubled region." If it didn't anticipate the precise timing and nature of this year's Arab Spring, it was at least prescient in previewing the people and movements that provided the intellectual and political background for the upheaval in Egypt, Tunisia, and elsewhere.
Wright extends that analysis in her new book, Rock the Casbah (the title comes from the song by the punk rock band The Clash). The book contends that the Middle East is rebelling against autocrats but also against jihadism. "For most Muslims today, the real jihad is simply rescuing the moral struggle at the heart of the faith from extremists," Wright argues. Wright has strong credibility when she contends that the region is turning away from illiberalism and extremism. Her first two books were early catalogs of radical Islam in the late 1970s and '80s, works that offered insight into the ideology that captivated much of the region. When she now says the trend is toward democracy and freedom, she deserves to be listened to.
---