The Chitlin' Circuit and the Road to Rock 'n' Roll, by Preston Lauterbach.
A groundbreaking history of the black juke joints that birthed rock 'n' roll.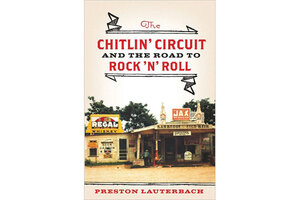 It's 1951, and a group of teenagers who call themselves the Kings of Rhythm are motoring up Highway 61 from the Mississippi Delta, their instruments tied to the top of the car. A 19-year-old named Ike Turner is driving, and he and the band are on their way to Memphis when they hit a bump that sends their equipment flying. Turner and the others hail from Clarksdale, where poor folks make instruments out of wire and broomsticks, so when they discover a fracture in their amplifier, they just patch it and shoulder on.
Multiply this scene a thousand times and you'd have the raw material for a documentary on the chitlin' circuit, that string of venues where black entertainers not only made a decent living in a segregated time but also honed their chops and got ready to raise the curtain on a new sound called rock 'n' roll. A lot of musical biopics have told parts of the story by showing how artists as different as Ray Charles, Etta James, and Ike & Tina Turner went from one club to another, learning how to "dump house," that is, turn the joint upside down with their seething rhythms and surefire stagecraft. No single film tells the whole story. Now, though, Preston Lauterbach's The Chitlin' Circuit: And the Road to Rock 'n' Roll – a fact-studded and exhaustively researched book – does.
---