A World on Fire: Britain's Crucial Role in the American Civil War, by Amanda Foreman
It's called the American Civil War, but it was much more British than most people think.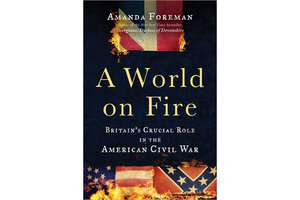 When Amanda Foreman's first book, "Georgiana, Duchess of Devonshire," was published in 1998, the biography became an international bestseller and was adapted into a movie starring Keira Knightley and Ralph Fiennes.
Now, more than a decade later, comes A World on Fire, weighing in at a few pounds and nearly a thousand pages. It's sprawling, but never boring. Once again, Foreman displays her exceptional gift for storytelling and for making history both fascinating and relevant.
Never mind how many other books have been written on the Civil War. Foreman offers her own enlightening perspective as an author born in London to an English mother and an American father. (She now lives in New York, but holds dual US and UK citizenship.) Her focus is the significant role that the British played in the war, and although it's hardly a secret, it remains a neglected element in history books.
The Civil War is a quintessentially American event, a bloody, four-year battle that tore apart the nation and resulted in the deaths of more than 600,000 soldiers. But Foreman calls attention to the tens of thousands of Britons who served as soldiers, doctors, nurses, reporters, and more. "Though united by language and a shared heritage, the Britons in America were nevertheless strangers who happened to find themselves, for a variety of reasons, in the midst of great events," she writes.
---