What a Wonderful World: The Magic of Louis Armstrong's Later Years
Were Louis Armstrong's later years his worst – or his best?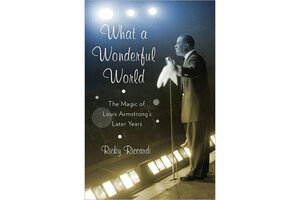 Louis Armstrong was a music virtuoso, an innovator of the highest level, and one of the greatest entertainers in American history. His admirers spanned the globe, packing concert halls from Toronto to Tokyo. His groundbreaking jazz records, some recorded in the mid-1920s, still outsell (and out-download) most contemporary jazz recordings, and today, 40 years after his passing, Armstrong's gravelly voiced take on songs like "Hello Dolly" and "What a Wonderful World" pour daily out of radios around the world. Armstrong is widely credited with "inventing" jazz and no one ever picks up a trumpet without acknowledging his legacy.
But not everyone was enthralled by the great "Satchmo." In fact, a healthy percentage of African-Americans and many jazz critics – even now – view the last 20 years of Armstrong's performing life as a betrayal. In their eyes, Armstrong was tone-deaf.
When he was still in short pants, the young Armstrong was already a consummate performer and comedian, entertaining crowds on street corners and honky-tonks in New Orleans. (Look up "mugging" in the dictionary and you're apt to see an eye-rolling, hanky-mopping photo of Armstrong, circa 1920, grinning back at you.) Unfortunately, his later years are most remembered for his frequent appearances on "The Ed Sullivan Show" and other variety shows where musicianship often took a back seat to cutting up and clowning. While white audiences of the 1950s and '60s may have been amused, many black viewers were enraged. For them, the flickering TV images of Armstrong's "minstrel show" were anathema, an unwelcome remnant of a sublimated past.
---