The Sugar Barons: Family, Corruption, Empire, and War in the West Indies
A rich narrative looks back at an era when sugar merchants were the power brokers of their day.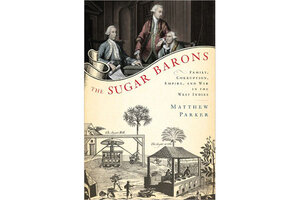 The emergence of sugar as the world's most coveted commodity during the 17th and 18th centuries – equivalent to oil in our times – not only sweetened tea and raised metabolic rates; it also stimulated the quest for empire – a grasping, sordid race to exploit new territories and by any means necessary. Ascendant sugar lifted other boats as well: intercontinental trade, shipbuilding, North American agriculture, rum production, armies and navies, buccaneering, and insurance and banking.

Sugar also meant slavery on a scale unprecedented in human history. Two thirds of all the enslaved Africans in the Americas worked on plantations in the West Indies. Despite their diminutive size, islands like Barbados were at times as valuable to England as all of its North American colonies combined. Barely larger than Martha's Vineyard, Barbados would become the most densely populated and productive place in the English-speaking world, and by the late 1600s fully 80 percent of the island was planted in cane.
Such an ambitious and exploitative business plan required cheap labor, and blacks soon outnumbered whites by three to one on Barbados and by more than 10 to 1 on Jamaica. With its West Indian sugar industry waning, Britain would free its 800,000 slaves in 1834.
---