Everett Ruess: two new biographies
The story of Everett Ruess – the young explorer of the American West who vanished in the 1930s – remains an unsolved mystery to this day.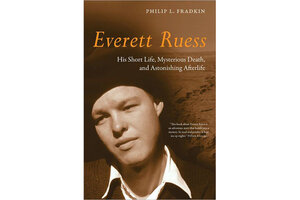 Long before there was Christopher McCandless (the young solitude-seeker immortalized in Jon Krakauer's book "Into The Wild" and Sean Penn's movie of the same name), America already had a prototype in Everett Ruess.
Ruess vanished in 1934 when he was 20, and the circumstances surrounding his disappearance have been the subject of speculation ever since.
Did he have an accident while traversing the canyons of Utah's Escalante River with his mules? Was he murdered? Or did he ingeniously fake getting lost in order to eccentrically pursue ultimate freedom?
Ruess is, for a number of reasons, an archetypal folk hero, especially among the daydreaming outdoor set of the 21st century who fantasize of going off the grid to escape the pressures of contemporary life.
The fact that Ruess has never been found – in spite of a forensic debate that flared as late as 2009 – has only heightened his mystical stature. Indeed, to have successfully transcended the physical world and achieved a grander profile in the human imagination is a feat worthy of saints.
---