The Cut
An ex-Marine takes center stage in George Pelecanos's new novel of strivers and schemers in Washington, D.C.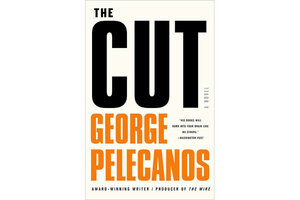 Reviewed by Mark Athitakis for The Barnes & Noble Review
Washington, D.C., is a politically volatile place, but there are a few things about the city you can count on. Cherry blossoms will bloom in the spring. The Washington Nationals will be out of contention in the fall. And local crime writer George Pelecanos will take a moment in one of his novels to chastise the hometown paper for its coverage of murders in the District. "The Post continued to routinely bury the violent deaths of D.C.'s young black citizens inside the paper, telling its readership implicitly that black life was worth less than whites," he writes in his tight and propulsive new novel, The Cut, reiterating a complaint he's made with slight variations across his two-decade career.
But Pelecanos also knows the city has changed since his 1992 debut, "A Firing Offense." The PIs in his earlier books, like Nick Stefanos and Derek Strange, navigated a District that was emerging from the crack years and nursed long memories about the riots of 1968. Now, he notes that homicides are at a 45-year low in the District, and in the city's bustling U Street corridor he sees "all sorts of faces and types, the D.C. most folks had wanted for a long time."
---