That Used to Be Us: How America Fell Behind in the World It Invented and How We Can Come Back
Tom Friedman urges Americans: Let's save our greatness – before it's too late.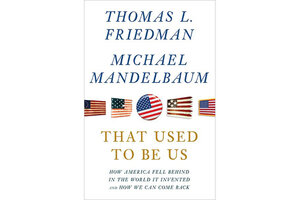 Tom Friedman and Michael Mandelbaum call themselves "frustrated optimists" about America. The country still has a lot going for it, especially its entrepreneurial spirit and creative energy, they say. But it's off its game at the moment – way off. And that's happening at just the wrong time, when technological advances have enabled new economic and political competitors (think China) to take advantage.
America is in denial, unwilling to accept that it's been living beyond its means and getting, well, a little lazy. For the authors, a country music lyric from the 2009 film "Crazy Heart" sums it up: "Funny how fallin' feels like flyin'/ For a little while...."
Meanwhile, the two major political parties have become so polarized, and so willing to pander to voters and tell them only what they want to hear, that they can neither propose real solutions separately nor work together to find them.
In That Used to Be Us, Friedman, a Pulitzer Prize-winning columnist for The New York Times, and Mandelbaum, a foreign-policy expert at Johns Hopkins University, do a masterly job of explaining just what's wrong and why our nation is on the brink of tragedy. They employ lively examples and telling statistics to make their points, and buttress them with incisive quotes from those inside America's political system. From preface to conclusion, the book paints a devastating picture.
---