You Deserve Nothing
A teacher devoted to his students becomes the object of more than academic interest.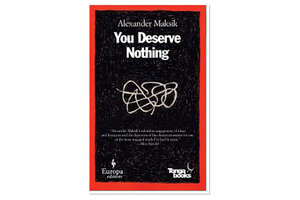 Reviewed by Susan Salter Reynolds for The Barnes & Noble Review
"The optimism, the sense of possibility and hope comes at the end of August." With Alexander Maksik's help, his impeccable timing and his cinematic eye, you can almost conjure it—the first chill, the end of summer, what it was like to love a class, to believe in a teacher, to look forward to school with keen anticipation, not dread. Perhaps you were fortunate enough to take an English Literature class like the one Will Silver teaches sophomores and seniors at the ISF High School in Paris. Reading the great books, you might have discussed the existence of God, being and nothingness, action vs. reflection, how to be true to yourself (whatever that meant.)
Will Silver's students want to be like him: self-contained, stylish, honest and unafraid. When he tells them to live the literary life; to read Sartre in cafés as the long afternoon light disappears; to carry notebooks, observe, and be engaged, they do it. His students are privileged, well-travelled kids from sophisticated families. Most of them speak several languages. Some of them have seen violence and experienced personal grief.
The story of You Deserve Nothing is so familiar by now that it's operatic: truly passionate teacher crosses a line (or is seduced over a line—it barely matters). In the classroom crucible, bonds form, things are said, bureaucratic policies broken, morals questioned, boundaries violated. Will Silver is an undeniably good man, but he is only thirty-three, and there are unanswered questions and deep holes he has yet to face in his own life.
---