King of the Badgers
The inhabitants of a small English town respond to a shocking crime.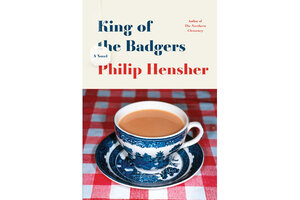 By Katherine A. Powers for The Barnes & Noble Review
Though well-known in Britain as a novelist, a columnist, an outspoken advocate of gay rights, one of Granta's Best of Young British Novelists, and an all-around man of letters, Philip Hensher has made a mark in this country – to the extent that he has – as the author of "The Northern Clemency." The novel was short-listed for the Man Booker Prize in 2008 and published here last year.
Set in Yorkshire from the mid-70s to the mid-90s, it was a chronicle of England's transformation – or deterioration, as it may be – as it played out in the lives of the members of two families. That novel was to an extent an obituary tribute to an English past, and, in fact, to any sense of connection with it., But it was also a celebration of human idiosyncrasy, a festival of caustic wit and comic brio, and a humane, thoroughly absorbing network of stories that left me, for one, wishing it were twice as long as its 700-plus pages.
Now here is King of the Badgers, another novel preoccupied with change, this time all-encompassing, intrusive, and ugly. Set in 2008 in Hammouth, a fictional town on an estuary not far from Barnstaple in Devon, it begins with what has become a form of mass entertainment in Britain, a full-bore media carnival of fear, grief, and voyeurism mounted over the disappearance of a child.
---