What It Is Like to Go to War
A Vietnam vet urges soldiers to talk more openly about what it means to fight.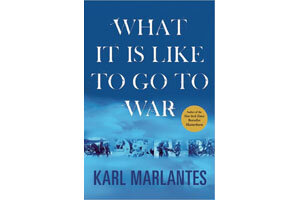 Ask most combat veterans what war is like and they'll tell you – if they agree to talk about it at all – that you can't know war unless you've been there. War movies and battle memoirs will never replicate the firsthand horror and exhilaration of battle. Karl Marlantes, a Marine lieutenant and platoon leader in Vietnam, is equally well aware that combat cannot be bound between two covers. In calling his new book What It Is Like to Go to War, hasn't Marlantes promised the impossible?
"What It Is Like to Go to War" is really more about What It Is Like to Have Gone to War. True, this book describes the chaos of combat, with beautifully conjured landscapes and riveting battle sequences. Some scenes are nearly identical to those in Marlantes's bestselling novel, "Matterhorn," and like the novel, "What It Is Like" spares no detail about exhaustion, or excrement, or jungle rot. But this new book is less a memoir than an intellectual analysis in which Marlantes grapples with the complex and disconcerting moral questions involved in fighting and killing.
What he has replicated isn't war, but rather the constant mental churning that follows and a quest to recover from man's impulses in deadly situations.
---