Rin Tin Tin: The Life and the Legend
New Yorker writer Susan Orlean tells the larger-than-life story behind canine movie star Rin Tin Tin.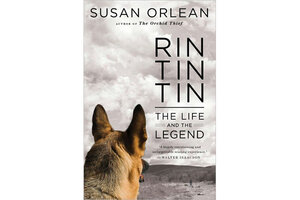 The best narrative nonfiction extends beyond its stated subject to encompass so much more. Just as Rebecca Skloot's "The Immortal Life of Henrietta Lacks" grew organically from the story of HeLa lab cells to become a book about race and medical ethics, the "unfurling narrative" of Susan Orlean's Rin Tin Tin, about the canine movie star, unleashes a cultural history of German shepherds and the changing role of dogs from farm workers to war heroes to pets; the evolution of the motion picture industry from silents to talkies to television; and an exploration of why some cultural icons continue to beguile.
Orlean's last book-length project was "The Orchid Thief," filmed as "Adaptation," with Meryl Streep playing the author. As her articles for The New Yorker also demonstrate, Orlean is drawn to eccentrics and obsessives, people whose often quirky interests come to define their lives. No slouch in the singleness of purpose department herself, she goes to enormous lengths during a seven-year odyssey to sniff out every aspect of Rin Tin Tin's tale – which includes indelible portraits of three people who become fanatically wrapped up in protecting his legacy.
In pursuit of her "quintessentially American" canine hero – "an immigrant in a country of immigrants" and "everything Americans wanted to think they were – brave, enterprising, bold, and most of all, individual" – Orlean attempts to "retract time like a measuring tape." She travels to the Meuse valley in France, where, in 1918, a low-ranking American gunnery corporal named Lee Duncan sent to inspect the ruins of a German encampment came upon a litter of five whimpering newborn German shepherd puppies in a battered concrete kennel. (By the time she got there nearly a century later, the kennel was long gone; what Orlean finds in the area are a sobering number of cemeteries.)
---